Cultural Artefact

Multi-channel Cochlear Implant (Bionic Ear) (1978 - )
From

August 1978

Alternative Names

Bionic Ear

(Also known as)

Cochlear Implant

(Also known as)

Implantable Hearing Prosthesis

(Former name)
Summary
The Multi-channel Cochlear Implant was the first device to allow severe-to-profoundly deaf people to understand speech. Graeme Clark working with engineers created the first prototype fully implantable Multi-channel Cochlear Implant. In addition, as senior surgeon he led the surgical implantation of this prototype receiver-stimulator at the Royal Victorian Eye and Ear Hospital on 1 August 1978. The Multi-channel Cochlear Implant is popularly known as the Bionic Ear.
Details
The concept of the bionic ear dates back to the acceptance of Graeme Clark's PhD thesis in 1969. Clark began this research with the aim of developing a cochlear implant - a device which could be surgically implanted into the cochlea (inner ear). This device would then be used to electrically stimulate the auditory nerves, thereby allowing a deaf person to hear. Clark continued this research from 1970 as the Professor of Otolaryngology at the University of Melbourne. Eventually a prosthesis was developed which could be inserted into the cochlear (inner ear) of a severe-profoundly deaf person.
Between 1974 and 1976, three 'telethons' were aired by Channel 10 to raise funds for research and development into the device. The term 'bionic ear' was coined by Clark in 1974 when the television producers for the 'telethons' asked for a more 'catchy' name for the cochlear implant.
By 1976, the research team led by Clark had produced a benchtop version of the bionic ear. The first cochlear implant to allow a patient to understand speech took place on 1 August 1978. The implant was received by Rod Saunders at the Royal Victorian Eye and Ear Hospital in Melbourne.
The bionic ear was to become a major Australian contribution to the treatment of deafness.
Events
1969

Research - Graeme Clark completes preliminary studies on the bionic ear in his PhD thesis

1974 - 1976

Business event - Three telethons aired by Channel 10 to raise funding for the bionic ear.

1976

Research - Benchtop version of the circuit design for cochlear implant completed at the Department of Otolaryngology, the University of Melbourne

1978

Research - The first cochlear implant to allow a patient to understand speech was received by Rod Saunders at the Victorian Eye and Ear Hospital
Related entries
Archival resources
National Archives of Australia, National Office
National Film and Sound Archive of Australia
National Library of Australia
National Museum of Australia
Private hands (Clark, G.M.)
Records Services, The University of Melbourne
The University of Melbourne Archives
Published resources
Books
Journal Articles
Resources
Theses
Online Resources
Digital resources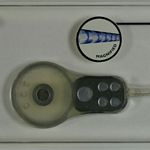 Title

Cochlear Implant - Cochlear Limited, 'Nucleus 24', C124M, 1998

Type

Image

Date

1998

Source

Museum Victoria
Jack Roberts
Created: 29 April 2016, Last modified: 22 December 2016