Supporter

The College of Nursing (Incorporating The New South Wales College of Nursing)
Address

The College of Nursing Locked Bag 3030 Burwood NSW 1805 Australia

Phone

(02) 9745 7500

Fax

(02) 9745 7502

Url
Details
The mission of The College of Nursing is to facilitate the education and development of nurses, influence the process of policy development and improve the health care of the community.
The College achieves this mission by providing the highest quality educational and professional services to its members and nurses in general.
The College is run by nurses for nurses. The College Board is elected by the Fellows and Members of the College and consists of twelve Fellows and Members, plus a representative from the New South Wales Health Department. The Board works on behalf of the members to advance the quality, status and recognition of the nursing profession.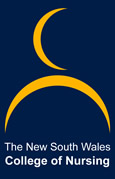 The College is enthusiastic about the work of the Australian Nursing History Project in helping to ensure that the work and contributions of Australian Nurses is not overlooked. The College is committed to celebrating the life and work of nurses who did so much to shape the future of our profession and to this end the Board has determined that a new entry will be sponsored annually.
The Australian Nursing History Project of the School of Postgraduate Nursing, University of Melbourne, has taken a leadership role in facilitating the development of historical information about nurses and nursing in Australia. They have assisted in the preparation of the entries listed below. For further information see: http://www.anmhp.unimelb.edu.au.
Foundation Supporter of