Biographical entry

Baracchi, Pietro Paolo Giovanni Ernesto (1851 - 1926)
Born

25 February 1851
Florence, Italy

Died

23 July 1926
Melbourne, Victoria, Australia

Occupation

Astronomer
Summary
Pietro Baracchi was Government Astronomer of Victoria 1900-1915. He established a small observatory on Mount Stromlo in 1910 for the Commonwealth government.
Details
Born Florence, Italy, 25 February 1851. Died Melbourne, 23 July 1926. Educated in civil engineering, Florence (?). Engineer, Italian Army; assistant, Melbourne Observatory 1876-77; draftsman, Victorian Lands & Survey Department 1877-82; passed land surveyor's examination with credit 1880; assistant, Melbourne Observatory 1882-83; third assistant, in charge of the Great Melbourne Telescope 1883-92; first assistant 1892-95; acting government astronomer 1895-1900; government astronomer 1900-15. Order of Knight Commander of the Crown of Italy 1897. President, Royal Society of Victoria 1908-09.
Related entries
Published resources
Book Sections
Journal Articles
Resources
Resource Sections
See also
Digital resources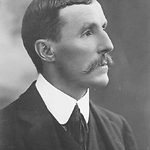 Title

Baracchi, Pietro Paolo Giovanni Ernesto Portrait

Type

Image
McCarthy, G.J.
Created: 20 October 1993, Last modified: 26 February 2018