Biographical entry

Sanders, John Veysey (1924 - 1987)

FAA
Born

28 May 1924
Adelaide, South Australia, Australia

Died

3 December 1987
Melbourne, Victoria, Australia

Occupation

Physicist and Crystallographer
Summary
John Sanders worked for the CSIRO Division of Tribophysics 1950-1987, studying electron diffraction and electron microscopy. His particular interest was the structure and properties of gemstones, especially the colour displayed by precious opal.
Details
Born Adelaide, 28 May 1924. Died Melbourne, 3 December 1987. Educated Universities of Adelaide (BSc (hons) 1947) and Cambridge (PhD 1949). CSIRO Division of Tribophysics (later Division of Materials Science, then Materials Science and Technology) 1950-87, being Assistant Chief of the Division for much of this time. Federal Patron, Gemmological Association of Australia and for several years conducted theory and practical classes on the properties of gemstones for the Association in Victoria. Fellow, Australian Academy of Science 1980.
Related entries
Archival resources
Adolph Basser Library, Australian Academy of Science
Published resources
Encyclopedia of Australian Science Exhibitions
Journal Articles
Resources
Resource Sections
See also
Digital resources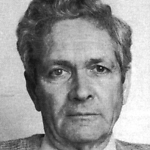 Title

John Veysey Sanders

Type

Image
McCarthy, G.J.
Created: 20 October 1993, Last modified: 4 June 2010