Biographical entry

Sweet, George (1844 - 1920)
Born

1844
England

Died

1920

Occupation

Geologist
Summary
George Sweet was an amateur geologist and ran the Brunswick Brick, Tile & Pottery Co. He built up an extensive fossil collection and worked for Frederick McCoy in the Mansfield district, Victoria 1888-1895 and with Edgeworth David on the Funafuti expedition in 1897. President of the Royal Society of Victoria 1905.
Related entries
Archival resources
Museum Victoria
George Sweet - Records, 1888 - 1920; Museum Victoria. Details
Published resources
Book Sections
MacCallum, Monica, 'Sweet, Georgina (1875-1946), Zoologist, Academic and Philanthropist' in Australian Dictionary of Biography, John Ritchie, ed., vol. 12 (Melbourne: Melbourne University Press, 1990), pp. 149-150. http://www.adb.online.anu.edu.au/biogs/A120168b.htm. Details
Resources
Digital resources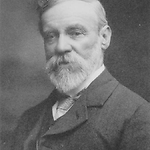 Title

Sweet, George Portrait

Type

Image
McCarthy, G.J.
Created: 20 October 1993, Last modified: 2 March 2018