Biographical entry

Perry, Nancye Enid Kent (1918 - 2011)
Born

16 December 1918
Killara, New South Wales, Australia

Died

26 July 2011
Melbourne, Victoria, Australia

Occupation

Entomologist and Artist

Alternative Names

Kent, Nancye

(maiden name)
Summary
Nancye Perry, an entomologist, worked at a number of institutes including the CSIRO (Commonwealth Scientific and Industrial Research Organisation), Walter and Eliza Hall Institute of Medical Research and the Commonwealth Department of Health Plant Quarantine Division. Prior to her Australian posts, Perry worked in the UK for almost four years with the Department of Scientific and Industrial Research's Forest Products Research Laboratory. In 1957 she married and was forced to resign from her Health Department post as at the time married women were not allowed to work for the Australian Government. This is when Perry moved her attention to painting and the arts.
Details
While undertaking a Bachelor of Science Degree at the University of Sydney, World War II broke out so Nancye Perry's studies were interrupted: she deferred her studies for over a year to work at the CSIR (Council for Scientific and Industrial Research) National Standard Laboratory. Perry eventually graduated in 1945, but as opportunities for female entomologists in Australia were very limited she was forced to go abroad. She moved to the UK in 1946 where she worked as a timber entomologist at the Department of Scientific and Industrial Research's Forest Products Research Laboratory in Buckinghamshire (1946-1950). Family pressure made Perry return to Australia in August 1950 where she was only able to find temporary appointments. Her first post was with the CSIRO (1950-1951) where she worked on the Sirex woodwasp - a dangerous pest that was being brought to Australia in the cargo holds of foreign ships. Next Perry spent six months at the Walter and Eliza Hall Institute where she studied mosquitoes during the Murray Valley Encephalitis outbreak. Once that tenure was completed she joined the Victorian Fisheries and Game Department as a trout biologist (1951-1954). There she was involved in field work and the analysis of trout guts and scales. Finally in December 1954 Perry found permanent employment with the Commonwealth Health Department's Plant Quarantine Division where she was once again employed in the study of Sirex woodwasps. Much of her work was carried out at the Llanherne pine plantation near Hobart, Tasmania.
Nancye Perry's career at the Commonwealth Health Department was short lived as she had to resign in 1957 after marrying. Not wanting to be idle, she engaged in many part-time jobs including demonstrating zoology at the University of Melbourne, carrying out surveys and Census collection. In 1959 Perry became interested, and highly skilled, in dog training and later volunteered for around six years with Guide Dogs Victoria, chiefly in the puppy training scheme. In 1968 she turned her attention to art and took up panting classes. Perry became competent in both oil and watercolours and had her work exhibited on many occasions. She was a member of the Victorian Artist's Society.
Edited from a 2001 biosketch supplied by Nancye Perry
Events
1943 - 1944

Career position - Laboratory Assistant in the Physics section (optics) of the CSIR (Council for Scientific and Industrial Research) National Standards Laboratory in Sydney

1945

Education - Postgraduate research in agricultural economic entomology at the University of Sydney

1945

Education - Bachelor of Science (BSc) completed at the University of Sydney

1946 - 1950

Career position - Assistant Experimental Officer at the Forest Products Research Laboratory of the Department of Scientific and Industrial Research (DSIR), UK

1950 - 1951

Career position - Research Officer in the Wood Preservation Section, CSIRO (Commonwealth Scientific and Industrial Research Organisation) Division of Forest Products in Melbourne

c. 1951

Career position - Entomologist at the Walter and Eliza Hall Institute of Medical Research in Parkville, Victoria (six months)

c. 1951 - 1954

Career position - Trout Biologist in the Fisheries and Game Department

1954 - 1957

Career position - Senior Research Officer in the Plant Quarantine Section of the Commonwealth Department of Health in Canberra

1958

Career position - Demonstrator in Zoology for medical students at the University of Melbourne

c. 1960 - c. 1966

Career position - Volunteer with Guide Dogs Victoria

1968

Education - Enrolled in Max Middleton's oil painting classes

c. 1968

Career position - Concentrated on her painting, working with the Heidelberg Art Group and others

2001

Career position - Child of the 'Twenties, Girl of the 'Nineties autobiography published
Related entries
Archival resources
State Library of Victoria, Australian Manuscripts Collection
Nancye Kent Perry - Records, MS 13758; State Library of Victoria, Australian Manuscripts Collection. Details
The University of Melbourne Archives
Nancye Enid Kent Perry - Records, 1933 - 1958; The University of Melbourne Archives. Details
Published resources
Encyclopedia of Australian Science Exhibitions
Books
McCarthy, Gavan, The Papers of Nancye Enid Kent Perry (1918-) (Melbourne: Australian Science Archives Project, 1987), 13 pp. Details
Perry, Nancye Kent, Child of the 'Twenties, Girl of the 'Thirties (Hartwell, Victoria: Sid Harta Publishers, 2001), 79 pp. Details
Resources
Digital resources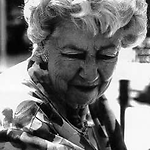 Title

Nancye Enid Kent Perry

Type

Image
Annette Alafaci
Created: 20 October 1993, Last modified: 5 March 2018