Biographical entry

Osborne, William Alexander (1873 - 1967)
Born

26 August 1873
Holywood, Down, Ireland

Died

28 August 1967
Melbourne, Victoria, Australia

Occupation

Physiologist and Medical educator
Summary
William Osborne was Professor of Physiology, University of Melbourne 1904-1938 and Dean of the Faculty of Medicine after 1929. He was on the panel of the radio quiz-programme "Information Please" from 1938 and was noted for his memory and wide variety of interests. President of the Royal Society of Victoria 1916-1917.
Related entries
Archival resources
Adolph Basser Library, Australian Academy of Science
National Library of Australia Manuscript Collection
State Library of Victoria, Australian Manuscripts Collection
The University of Melbourne Archives
Published resources
Books
Book Sections
Journal Articles
Resources
See also
Digital resources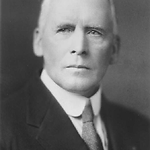 Title

Osborne, William Alexander Portrait

Type

Image
McCarthy, G.J.
Created: 20 October 1993, Last modified: 13 February 2018