Biographical entry

Falk, John Edwin Rogers (1917 - 1970)

FAA
Born

22 August 1917
Cessnock, New South Wales, Australia

Died

25 October 1970

Occupation

Biochemist
Summary
John Falk was Chief of the CSIRO (Commonwealth Scientific and Industrial Research Organisation) Division of Plant Industry in Canberra from 1963 to 1970 after having served as Chief Research Officer and Head of the Biochemistry Section from 1955 to 1962. He was elected a Fellow of the Australian Academy of Science (FAA) in 1961.
Related entries
Archival resources
Adolph Basser Library, Australian Academy of Science
Published resources
Encyclopedia of Australian Science Exhibitions
Journal Articles
Resources
Resource Sections
Digital resources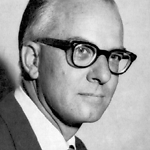 Title

John Edwin Rogers Falk

Type

Image
McCarthy, G.J.
Created: 20 October 1993, Last modified: 4 June 2010