Biographical entry

Derrick, Edward Holbrook (1898 - 1976)

FAA
Born

18 September 1898
Blackwood, Victoria, Australia

Died

15 June 1976
Brisbane, Queensland, Australia

Occupation

Medical scientist
Summary
Edward Derrick was Director of the Research Bureau, Asthma Foundation of Queensland from 1966 after being Director, Queensland Institute of Medical Research 1961-1966 and Deputy Director from its inception in 1947. He was a Fellow of the Australian Academy of Science (FAA) since 1955.
Related entries
Archival resources
Adolph Basser Library, Australian Academy of Science
Published resources
Encyclopedia of Australian Science Exhibitions
Book Sections
Journal Articles
Resources
Resource Sections
Digital resources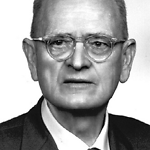 Title

Edward Holbrook Derrick

Type

Image
McCarthy, G.J.
Created: 20 October 1993, Last modified: 2 March 2018