Biographical entry

Cornish, Edmund Alfred (1909 - 1973)

FAA
Born

7 January 1909
Perth, Western Australia, Australia

Died

31 January 1973

Occupation

Mathematician and Statistician
Summary
Edmund Cornish was Officer-in-Charge, Section of Mathematical Statistics, CSIR/O, Adelaide 1941-1954 and then Chief of the Division of Mathematical Statistics, CSIRO 1954-1973.
Details
Born 7 January 1909. Died 31 January 1973. Fellow, Australian Academy of Science 1954.
Related entries
Archival resources
Adolph Basser Library, Australian Academy of Science
Published resources
Encyclopedia of Australian Science Exhibitions
Journal Articles
Resources
Resource Sections
See also
Digital resources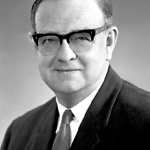 Title

Edmund Alfred Cornish

Type

Image
McCarthy, G.J.
Created: 20 October 1993, Last modified: 12 February 2018