Biographical entry

Considen, Denis (c. 1760 - 1815)
Born

c. 1760
Ireland

Died

29 December 1815

Occupation

Natural history collector and Surgeon
Summary
Denis Considen was surgeon on board the "Scarborough" of the First Fleet (1788) to New South Wales and collected plants for Joseph Banks. He used eucalyptus oil, distilled from Eucalyptus piperita, to treat the sick and declared himself, in a letter to Sir Joseph Banks, as the pioneer in pharmaceutical applications of eucalyptus oil.
Considen graduated in 1804 from his studies in medicine with his thesis De Tetano, which referred to his discovery of eucalyptus oil as an antiseptic and disinfectant for wounds. Botanist Joseph Maiden named Eucalyptus consideriana (1904) for Denis Considen.
Details
Events
1788

Career position - Assistant surgeon of the First Fleet, aboard the Scarborough. Considen treated the sick using Eucalyptus oil, distilled from Eucalyptus piperita Sm. (1790)

1793

Life event - Returned to England from New South Wales, due to ill health

1904

Taxonomy event - Eucalyptus consideniana Maiden was named in honour of Denis Considen
Archival resources
Adolph Basser Library, Australian Academy of Science
Powerhouse Museum
Joseph Banks - Records, 1766 - 1820, ML MSS 2144; Powerhouse Museum. Details
Published resources
Encyclopedia of Australian Science Exhibitions
Books
Book Sections
Journal Articles
Resources
See also
Digital resources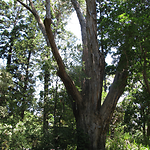 Title

Eucalyptus piperita Sm. (1790), Sydney Peppermint

Type

Image

Date

23 January 2013

Place

Royal Botanic Gardens Melbourne

Note

In 1788, Denis Considen, ship surgeon on the First Fleet, distilled eucalyptus oil from Eucalyptus piperita to treat the sick.
McCarthy, G.J. & Moje, C.
Created: 20 October 1993, Last modified: 16 April 2014