Biographical entry

Butler, Stuart Thomas (1926 - 1982)

FAA
Born

4 July 1926
Noracoorte, South Australia, Australia

Died

15 May 1982

Occupation

Physicist
Summary
Stuart Butler was Director of the Australian Atomic Energy Commission (Research Establishment), Lucas Heights 1977-1982. Earlier he was Professor of Theoretical Physics, University of Sydney 1959-1977.
Details
Born Noracoorte, South Australia, 4 July 1926. Died Sydney, 15 May 1982. Educated Universities of Adelaide (BSc 1945, MSc 1947) and Birmingham (PhD 1951). DSc, Australian National University 1961. Research Associate, Cornell University 1951-52; senior research fellow, Australian National University 1953; reader in physics, University of Sydney 1954-59, professor of theoretical physics 1959-77; Director, Australian Atomic Energy Commission Research Establishment, Lucas Heights, New South Wales 1977-82. Lyle Medal 1966; Fellow, Australian Academy of Science 1969.
Related entries
Archival resources
National Library of Australia Oral History Collection
Private hands (Butler, M.)
Stuart Thomas Butler - Records, 1926 - 1982; Private hands (Butler, M.). Details
Published resources
Book Sections
Journal Articles
Resources
Resource Sections
Digital resources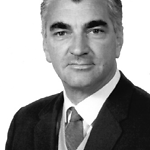 Title

Stuart Thomas Butler

Type

Image
McCarthy, G.J.
Created: 20 October 1993, Last modified: 4 June 2010