Biographical entry

Brisbane, Thomas Makdougall (1773 - 1860)

FRS
Born

23 July 1773
near Largs, Ayrshire, Scotland

Died

27 January 1860

Occupation

Astronomer and Patron of science
Summary
Sir Thomas Brisbane, a respected and successful soldier, was Governor of New South Wales 1821-1825. During this period he furthered his astronomical studies, built an observatory at Parramatta and made the first extensive observations of the southern stars since Lacaille in 1751-1752.
Details
Born near Largs, Ayrshire, Scotland, 23 July 1773. Died Largs, 27 January 1860. KCB 1814; KCH 1817; Baronet 1836; GCB 1837. Educated University of Edinburgh and the English Academy, Kensington. Commissioned an Ensign in the 38th Regiment 1789; in Ireland 1790; captain in Flanders 1793-98; major in the West Indies 1795-99; lieutenant-colonel, 69th Regiment, Jamaica 1800-03; served in England 1803-05; built the second observatory in Scotland at Brisbane House 1808; promoted colonel 1810; promoted brigadier-general 1812; promoted general 1841; governor of New South Wales 1821-25. Set up an agricultural training college in New South Wales and was the first patron of the New South Wales Agricultural Society 1822. Conducted (largely unsuccessful) experiments in growing Virginian tobacco, Georgian cotton, Brazilian coffee and New Zealand flax. Built an observatory at Parramatta and made the first observations of stars in the southern hemisphere since Lacaille's in 1751-52; built another observatory at Makerstoun 1826; later became president of the Edinburgh Astronomical Institution and did much to make the Edinburgh Royal Observatory highly efficient. Fellow, Royal Society 1810. President, Royal Society of Edinburgh 1832.
Related entries
Archival resources
Mitchell and Dixson Libraries Manuscripts Collection, State Library of New South Wales
National Library of Australia Manuscript Collection
Thomas Makdougall Brisbane - Records, 1812 - 1858, MS 4036; National Library of Australia Manuscript Collection. Details
Published resources
Articles
Books
Book Sections
Journal Articles
Resources
Resource Sections
See also
Digital resources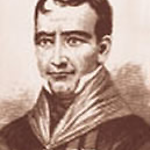 Title

Sir Thomas Makdougall Brisbane

Type

Image

Publisher

Bureau of Meteorology
McCarthy, G.J.
Created: 20 October 1993, Last modified: 12 February 2018