Biographical entry

Bowen, Edward George (1911 - 1991)

FAA, FRS
Born

14 January 1911
Swansea, Wales

Died

12 August 1991

Occupation

Radiophysicist
Summary
Edward Bowen was Chief of the Division of Radiophysics CSIR/O, Sydney 1946-1971 and was Chairman of the Anglo-Australian Telescope Board 1967-1973. Earlier he was a member of the U.K. radar development team 1935-1943.
Details
Born Swansea, Wales, 14 January 1911. Died Sydney, 12 August 1991. OBE 1941, CBE 1962. Educated University of Wales (BSc 1930, MSc 1931) and King's College London (PhD 1934). Member, UK radar development team 1935; Air Ministry Research Station, Bawdsey, England 1936-40; British Air Commission, Washington 1940-42; research physicist, MIT Radiation Laboratory, USA 1943; CSIR/O Division of Radiophysics 1944-71, chief of Division 1946-71; Counsellor (Scientific), Australian Embassy, Washington 1973-76. Chairman, Anglo-Australian Telescope Board 1967-73. Fellow, Australian Academy of Science 1957, Fellow, Royal Society 1975. Chairman, Joint Policy Committee of the Anglo-Australian Telescope 1967-1971; Chairman, Anglo-Australian Telescope Board 1971-1973; Fellow and first President, Australian Institute of Navigation.
Related entries
Archival resources
National Library of Australia Oral History Collection
Published resources
Books
Book Sections
Edited Books
Journal Articles
Resources
Resource Sections
See also
Digital resources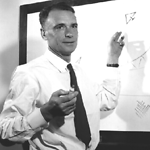 Title

Edward George Bowen

Type

Image
McCarthy, G.J.
Created: 20 October 1993, Last modified: 12 February 2018