Biographical entry

Becker, Jack Ellerton (1904 - 1979)

FAA
Born

4 October 1904
Adelaide, South Australia, Australia

Died

9 May 1979
Pembroke, Bermuda

Occupation

Business executive
Summary
Sir Jack Becker was a businessman and pastoralist, who gave generously to the Australian Academy of Science's building program. The Academy building has been named Becker House in his honour.
Details
Born Adelaide, 4 October 1904. Died Bermuda, 10 May 1979. Kt 1962. Apprentice jeweller ca1922-25; founder, Adelaide School of Music ca 1923-42; Conn Musical Factory, Indiana 1926-27; Allans Ltd, a firm selling musical instruments and sheet music 1927-33; formed the Adelaide Drum and Fife Band 1928; several unsuccessful farming ventures; farmer, Ninety-Mile Desert 1943-early 1950s, where he initiated experiments by the Waite Agricultural Research Institute and Council for Scientific and Industrial Research which led to the identification of copper and molybenum deficiency; sheep and cattle stud near Adelaide 1948-52; stud properties in South Australia and New South Wales 1952-68; retired to Bermuda 1971. Fellow, Australian Academy of Science 1961.
Related entries
Published resources
Book Sections
Journal Articles
Resources
Resource Sections
See also
Digital resources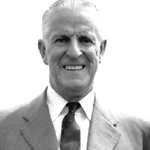 Title

Jack Ellerton Becker

Type

Image
McCarthy, G.J.
Created: 20 October 1993, Last modified: 12 February 2018