Biographical entry

Wade, Mary Julia (1928 - 2005)
Born

3 February 1928
Adelaide, South Australia, Australia

Died

14 September 2005
Charters Towers, Queensland, Australia

Occupation

Palaeontologist and Geologist
Summary
Mary Wade was Senior Curator, then an Honorary Research Associate of Queensland Museum for over twenty years (1971-1993). Prior to this she was a Senior Demonstrator in Geology at the University of Adelaide. During her tenure at the Queensland Museum Wade quadrupled the size of the fossil collections, mastered several phyla and became a world-renowned authority on Ordovician nautiloids, dinosaur trackways, Precambrian fossils and Cretaceous marine reptiles. In recognition of her contribution she was awarded the Queensland Museum Medal in 1994.
Details
Mary Wade was born in Adelaide and lived a typical country girl's life. She was schooled at home by her mother and through correspondence school until the age of thirteen when she went to boarding school. Her love of natural history and animals began at an early age and she became a competent stockwoman. In 1947 Wade entered the University of Adelaide and was one of the few women to study in the Department of Geology which was headed by (Sir) Douglas Mawson. She majored in Geology and Zoology and in 1954 completed a Bachelor of Science with Honours (1st Class) in Micropalaeontology on the topic of South Australian Tertiary foraminifera (single-celled protists with shells). Wade then worked as a Senior Demonstrator at the University, while doing postgraduate studies and completed a Doctor of Philosophy in 1959.
After completing her studies, Wade remained at the University and worked with Professor Martin Glaessner on Late Precambrian fossils (the oldest known fossils at that time) from Ediacara in the Flinders Ranges, South Australia. She was also appointed temporary lecturer, but with no prospect of a permanent academic position she decided to leave in January 1971. In March that year she took up the position of Curator of Geology at the Queensland Museum and worked her way up to the level of Senior Curator. Wade was also appointed Deputy Director in 1980 and Acting Assistant Director (Scientific, Research and Consultancy) in 1986. In February 1993 she was retired by the Public Service.
Wade's years of service to the collection and research of many areas of Queensland Palaeontology was exemplary. Her diverse contributions to the functions of the museum, the people and communities of Queensland, and the bank of palaeontological knowledge were first class. During her tenure Wade oversaw the expansion of the Fossil and Geological Collections incorporating a vast range of material and created new displays both in the Fortitude Valley and South Bank buildings. Her research contributions were exceptionally diverse, ranging from Tertiary foraminifera to Ediacaran fossils, Cretaceous marine reptiles and dinosaur trackways. She identified and described a new family of Queensland Ordovician nautiloid shells and developed a distinct morphological terminology for them. She subsequently demonstrated that the Cambrian nautiloids in northwest Queensland and north China were similar and unlike any other known elsewhere in the world. In addition she brought into the Queensland Museum collections of hundreds of Palaeozoic nautiloid and other mollusca from Queensland and the Northern Territory.
Mary Wade continued as an active member of the Queensland Museum community after her retirement, when she was appointed an Honorary Research Associate (1993). The following year she received the Queensland Museum Medal for her efforts. Wade's gifts to Queensland were her scientific enthusiasm and its translation to practicalities such as geotourism, her drive in seeing the Queensland Museum's fossil collections grow to a world class collection and the permanent record of her diverse scientific research. Whether it be straight or coiled nautiloids from the far northwest of the state or giant dinosaurs and plesiosaurs from the centre west, geologist and palaeontologist Wade was at the hub of "bringing them back alive". Edited from an unpublished article by Dr Sue Turner (2005)
Events
1954

Education - Bachelor of Science with Honours (BSc (Hons)) completed at the University of Adelaide

c. 1954 - 1971

Career position - Senior Demonstrator in Geology at the University of Adelaide

1959

Education - Doctor of Philosophy (PhD) completed at the University of Adelaide

1971 - 1993

Career position - Curator, then Senior Curator of Geology at the Queensland Museum in Brisbane

1980

Career position - Deputy Director of the Queensland Museum

1986

Career position - Acting Assistant Director (Scientific, Research & Consultancy) of the Queensland Museum

1993

Career position - Retired and made Honorary Research Associate of the Queensland Museum

1994

Award - Queensland Museum Medal received
Published resources
Encyclopedia of Australian Science Exhibitions
Book Sections
Conference Papers
Journal Articles
Resources
Digital resources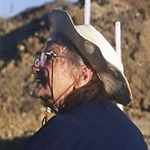 Title

Dr Mary Julia Wade

Type

Image
Annette Alafaci
Created: 5 October 2005, Last modified: 2 February 2011