Biographical entry

Johnson, Lawrence Alexander Sidney (Lawrie) (1925 - 1997)

FAA
Born

26 June 1925
Cheltenham, New South Wales, Australia

Died

1 August 1997
St Leonards, New South Wales, Australia

Occupation

Botanist
Summary
Lawrie Johnson was a taxonomic botanist with an outstanding breadth of interests and expertise. Throughout his career, he maintained a prolific output of publications, and many co-authored publications continued to be published after his death. Lawrence Johnson was attached to the Royal Botanic Gardens Sydney from 1948-1997 as Botanist, later Director and then Honorary Research Associate.
Details
Johnson is particularly known for his work on eucalypts. In collaboration with colleagues, he named more than 180 eucalypt species and many new subspecies, and reclassified over 100 species. His purpose was to characterise key groups that typify major lines of evolution among them. Together with Pryor, he found that the eucalypts comprised eight key groups, informally termed subgenera, and devised a new classificatory listing and description of all the species then known. This work included the segregation of Angophora and Corymbia from the genus Eucalyptus as a separate species in 1995. Botanists Don Blaxell and later Ken Hill greatly assisted Lawrence Johnson in his work.

Born Cheltenham, New South Wales, 26 June 1925. Died Sydney, 1 August 1997. AM 1987 Educated University of Sydney (BSc (hons) 1947). Assistant Botanist, National Herbarium of New South Wales, Royal Botanic Gardens, Sydney 1948-62, Australian Botanical Liaison Officer, Royal Botanic Gardens, Kew 1962-63, botanist, National Herbarium of New South Wales, Royal Botanic Gardens, 1964, Botanist, Special Grade 1965, Senior Botanist (later retitled Deputy Chief Botanist) 1968-72, Director, Royal Botanic Gardens, Sydney 1972-. Clarke Memorial Medal, Royal Society of New South Wales, Fellow, Australian Academy of Science 1986. Twice president, Linnean Society of New South Wales.
Events
1948

Career event - Joined the staff of the National Herbarium, Royal Botanic Gardens, Sydney

1952

Taxonomy event - Eucalyptus glaucina (Blakely) L.A.S.Johnson

1962

Taxonomy event - Eucalyptus oraria L.A.S.Johnson

1962

Taxonomy event - Eucalyptus tetrapleura L.A.S.Johnson

1968 - 1972

Career position - Deputy Chief Botanist, Royal Botanic Gardens, Sydney

1971

Career event - Published A Classification of the Eucalypts

1972 - 1986

Career position - Director of the Royal Botanic Gardens, Sydney

1973

Taxonomy event - Eucalyptus sphaerocarpa L.A.S.Johnson & Blaxell

1973

Taxonomy event - Eucalyptus pyrocarpa L.A.S.Johnson & Blaxell

1973

Taxonomy event - Eucalyptus paliformis L.A.S.Johnson & Blaxell

1979

Award - Clarke Medal, Royal Society of New South Wales

1984

Award - Mueller Medal, ANZAAS

1995

Taxonomy event - Corymbia ficifolia (F.Muell) K.D. Hill & L.A.S. Johnson
Related entries
Published resources
Encyclopedia of Australian Science Exhibitions
Books
Book Sections
Journal Articles
Resources
See also
Digital resources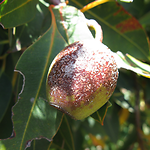 Title

Corymbia ficifolia (F.Muell.) K.D.Hill & L.A.S.Johnson (1995), Red Flowering Gum, detail of leaves

Type

Image

Date

23 January 2013

Place

Royal Botanic Gardens Melbourne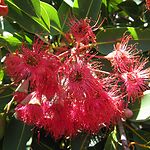 Title

Corymbia ficifolia (F.Muell.) K.D.Hill & L.A.S.Johnson (1995), Red Flowering Gum, detail of flowers

Type

Image

Date

23 January 2013

Place

Royal Botanic Gardens Melbourne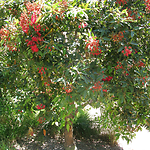 Title

Corymbia ficifolia (F.Muell.) K.D.Hill & L.A.S.Johnson (1995), Red Flowering Gum

Type

Image

Date

23 January 2013

Place

Royal Botanic Gardens Melbourne
Rosanne Walker, Christine Moje & Neville Walsh
Created: 31 October 1997, Last modified: 20 February 2014