Biographical entry

Todd, Charles (1826 - 1910)

FRS
Born

7 July 1826
Islington, England

Died

29 January 1910
Semaphore, South Australia, Australia

Occupation

Astronomer and Meteorologist
Summary
Sir Charles Todd was Government Astronomer, Superintendent of Telegraphs and later Postmaster-General, South Australia 1855-1906. Played an instrumental role in the construction of the Overland Telegraph between Adelaide and Darwin.
Details
Born 7 July 1826. Died 29 January 1910. CMG 1872, KCMG 1893. Astronomical Computer, Royal Observatory, Greenwich, 1841-47, Assistant Astronomer, Cambridge Observatory, 1847-54, Assistant, Greenwich, 1854-55, Astronomical Observer and Superintendent of Telegraphs, South Australia 1855-1870, Postmaster General of South Australia (in addition to Astronomical Observer and Superintendent of Telegraphs) 1870-1906. President, Astronomical Society of South Australia 1892-1910, President, Royal Society of South Australia 1882-83.
Todd became Superintendent of Telegraphs and Government Astronomer and Meteorologist in South Australia in 1855 at the age of 30. By 1858 he had completed telegraph links to Victoria and New South Wales and, by 1872, the overland telegraph to Darwin. As Superintendent of Telegraphs, he made it a duty of all his telegraph operators to make and transmit meteorological observations and he had soon established extensive observing networks throughout South Australia and the Northern Territory, and into Western Australia. Elected a Fellow, Royal Society of London in 1869, he played a leading role in the scientific life of South Australia, even after his formal retirement, until his death in 1909. A Hundred Years of Science and Service, Bureau of Meteorology, 2001.
Related entries
Archival resources
Geological Survey of South Australia
Public Record Office Victoria, Victorian Archives Centre
State Library of South Australia, Mortlock Library of South Australiana
State Records of South Australia
Published resources
Books
Book Sections
Journal Articles
Resources
Resource Sections
See also
Digital resources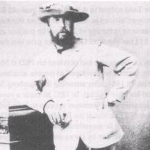 Title

Sir Charles Todd

Type

Image

Publisher

Bureau of Meteorology
McCarthy, G.J.
Created: 20 October 1993, Last modified: 2 March 2018