Biographical entry

Jaeger, John Conrad (1907 - 1979)

FAA, FRS
Born

30 July 1907
Sydney, New South Wales, Australia

Died

15 May 1979
Canberra, Australian Capital Territory, Australia

Occupation

Geophysicist and Mathematician
Summary
John Jaeger was Professor of Geophysics at the Australian National University 1951-1972. He had previously been Lecturer in Mathematics and subsequently Professor of Applied Mathematics at the University of Tasmania 1935-1951. He achieved fame as an applied mathematician, especially through his books and his teaching; Conduction of Heat in Solids alone would have ensured continuing international recognition. Then he became one of the major moving forces in solid-earth geophysics and geochemistry in Australia, founding a school of high international standing and making important contributions in geothermal studies and rock mechanics.
Details
Born Sydney, 30 July 1907. Died Canberra, 15 May 1979. Educated Universities of Sydney (BSc 1928) and Cambridge (BA 1930). Research scholar, Trinity College, Cambridge 1931-35; Lecturer in Mathematics, University of Tasmania 1936-44, Senior Lecturer 1944-48, Associate Professor 1949-50, Professor of Applied Mathematics 1950-51; Physicist, CSIR Radiophysics Laboratory 1942-45; Professor of Geophysics, Australian National University 1951-72. Fellow, Australian Academy of Science 1954, Fellow, Royal Society 1970.
Related entries
Archival resources
Adolph Basser Library, Australian Academy of Science
Published resources
Encyclopedia of Australian Science Exhibitions
Book Sections
Journal Articles
Online Resources
See also
Digital resources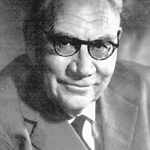 Title

John Conrad Jaeger

Type

Image
McCarthy, G.J.
Created: 20 October 1993, Last modified: 13 February 2018