Biographical entry

White, Edward John (1831 - 1913)
Born

8 December 1831
England

Died

2 August 1913

Occupation

Meteorologist and Astronomer
Summary
Edward White was Assistant at the Melbourne Observatory 1860-1892 and Acting Government Astronomer 1875-1876. Earlier he worked at the Bendigo gold diggings. President of the Royal Society of Victoria 1902.
Related entries
Published resources
Online Resources
'White, Edward John', in Physics in Australia to 1945, R.W. Home, with the assistance of Paula J. Needham, Australian Science Archives Project, June 1995, http://www.asap.unimelb.edu.au/bsparcs/physics/P001840p.htm. Details
'White, E J (18311208-19130802)', Trove, National Library of Australia, 2009, http://nla.gov.au/nla.party-910322. Details
See also
Digital resources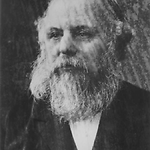 Title

White, Edward John Portrait

Type

Image
McCarthy, G.J.
Created: 20 October 1993, Last modified: 1 March 2018