Biographical entry

Chapman, Frederick (1864 - 1943)
Born

13 February 1864
Camden Town, England

Died

10 December 1943
Kew, Victoria, Australia

Occupation

Palaeontologist
Summary
Frederick Chapman was Palaeontologist to the National Museum, Melbourne from 1902-1927 and served as the first Commonwealth Palaeontologist 1927-1935.
Details
Born Camden Town, London, 13 February 1864. Died Kew, Victoria, 10 December 1943. Educated as a teacher of geology and physiography, Royal College of Science, London. Assistant to Professor J.W. Judd, geology department, Royal College of Science, London from 1881, becoming interested in the Foraminifera, eventually becoming a world authority on them; palaeontologist, National Museum, Melbourne 1902-27; part-time lecturer in palaeontology, University of Melbourne 1920-32; honorary palaeontologist, Geological Survey of Victoria from 1920; honorary curator, Maranoa wildflower gardens; first Commonwealth palaeontologist 1927-35; honorary palaeontologist, National Museum from 1936. Lyell Prize for research, Geological Society, London 1899; David Syme research prize, University of Melbourne 1920; Lyell Medal, Geological Society, London 1930; W.B. Clarke Medal, Royal Society of New South Wales 1932; Australian Natural History Medallion, Field Naturalists' Club of Victoria 1941. President, Microscopical Society 1919-20; president, Field Naturalists' Club of Victoria 1919-20; President, Royal Society of Victoria 1929-30. Published five books, including "The Foraminifera. An Introduction to the Study of the Protozoa" (London, 1902).
Related entries
Published resources
Book Sections
Crespin, Irene, 'Chapman, Frederick (1864-1943), palaeontologist', in Bede Nairn and Geoffrey Serle (eds), Australian Dictionary of Biography, vol. 7, Melbourne University Press, Melbourne, 1979, p. 612. Also available at http://www.adb.online.anu.edu.au/biogs/A070621b.htm. Details
Journal Articles
'Obituary: Frederick Chapman', Australian Journal of Science, vol. 6, no. 4, 1944, p. 122. Details
Online Resources
Digital resources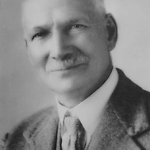 Title

Chapman, Frederick Portrait

Type

Image
McCarthy, G.J.
Created: 20 October 1993, Last modified: 2 March 2018