Biographical entry

Titterton, Ernest William (1916 - 1990)

Kt, FAA
Born

4 March 1916
Kettlebrook, Staffordshire, England

Died

8 February 1990
Canberra, Australian Capital Territory, Australia

Occupation

Physicist
Summary
Ernest Titterton was Professor of Nuclear Physics, Australian National University, Canberra 1950-1981. He worked on a number of committees concerned with atomic energy and weapons.
Details
Born Kettlebrook, Staffordshire, England, 4 March 1916. Died Canberra, 8 February 1990. CMG 1959; Kt 1970. Educated Birmingham University (BSc (Hons) 1937, MSc 1938, DipEd 1939, PhD 1941). Research Officer, British Admiralty working on radar 1939-43; member of the British Scientific Mission in the USA working on the development of the first nuclear weapons 1943-47; senior member of the timing group responsible for firing the first nuclear weapon at Alamagordo, New Mexico 1945; Chief Adviser on Instrumentation to the Task Force Commander at the Bikini Nuclear Weapons Tests 1946; Head, Electronics Division, Los Alamos Scientific Laboratory, New Mexico 1946-47; Group Leader in charge of Nuclear Emulsion and Cloud Chamber Research, Atomic Energy Research Establishment (AERE) , Harwell 1947-50; Foundation Professor of Nuclear Physics, Australian National University 1950-68, Dean, Research School of Physical Sciences 1966-68, Director, Research School of Physical Sciences 1968-73, Professor of Nuclear Physics 1973-81, Visiting Fellow, Department of Nuclear Physics 1981-87. Fellow, Royal Society of Arts and Sciences of London 1952; Fellow, American Physical Society 1952; Fellow, Australian Academy of Science 1954. Chairman, Australian Atomic Weapons Tests Safety Committee 1957-73; president, Australian Institute of Nuclear Science and Engineering 1973-74.
Related entries
Archival resources
Adolph Basser Library, Australian Academy of Science
Published resources
Encyclopedia of Australian Science Exhibitions
Books
Book Sections
Journal Articles
Online Resources
See also
Digital resources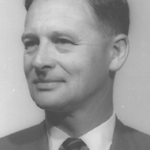 Title

Sir Ernest William Titterton

Type

Image
McCarthy, G.J.
Created: 20 October 1993, Last modified: 4 June 2010