Biographical entry

Spencer, Walter Baldwin (1860 - 1929)

CMG, KCMG, FRS
Born

23 June 1860
Stretford, Lancashire, England

Died

14 July 1929
Navarin Island, Tierra del Fuego

Occupation

Biologist, Anthropologist and Art patron
Summary
Sir Walter Baldwin Spencer arrived in Australia in 1887 to take up the chair of Professor of Biology, University of Melbourne (1887-1919). He was Honorary Director of the National Museum of Victoria from 1899 and was President of the Royal Society of Victoria in 1904.
Details
An Oxford graduate (BA 1884) and Lincoln College Fellow (1886), (Sir) Walter Baldwin Spencer was appointed to the foundation chair of biology at the University of Melbourne in 1887 and in this position was an active administrator and teacher (retired as emeritus professor 1919). He was president of the Field Naturalists' Club of Victoria, 1891-93 and 1895-97, president of the Royal Society of Victoria in 1904, and a trustee of the National Gallery of Victoria from 1895. He was zoologist and photographer to the first major scientific expedition to central Australia (the 1894 Horn Expedition) and edited the reports of the expedition (considered "one of the most substantial contributions to 19th Century exploration and natural history in Australia"). Baldwin Spencer also participated in numerous other field trips to Central and Northern Australia throughout his career, working in fruitful collaboration with Francis Gillen. In 1899 he became honorary director of the National Museum of Victoria. As Director he was responsible for supervising the museum's transfer to the Swanston Street site and the development of the museum's ethnographic collection. He donated his personal collection to the museum in 1917, which Included movies, wax cylinders and photographic negatives. He resigned from the Directorship in 1928 in order to return to England. FRS 1900; CMG 1904; KCMG 1916. Publications include: The Native Tribes of Central Australia 1899; Guide to the Australian Ethnographical Collection 1901, 1922; The Northern Tribes of Central Australia 1904; Native Tribes of the Northern Territory of Australia 1914; The Arunta: a Study of a Stone Age People 1927; Wanderings in Wild Australia 1928.
Events
1887 - 1919

Career position - Foundation Chair of Biology, The University of Melbourne, Australia

1895 -

Chair - Trustee, The National Gallery of Victoria, Australia

1899 - 1928

Career position - Honorary Director, The National Museum of Victoria, Australia

1900

Award - Fellow of the Royal Society (FRS), England

1904

Head - President, Royal Society of Victoria, Australia

1904

Award - Companion of the Order of St Michael and St George (CMG)

1916

Award - Knight Commander of the Order of St Michael and St George (KCMG)

1917

Taxonomy event - Spencer was honoured by J.H. Maiden with the naming of Eucalyptus spencerana Maiden (1917)

1919 -

Career position - Emeritus Professor, The University of Melbourne, Australia
Related entries
Archival resources
Adolph Basser Library, Australian Academy of Science
Mitchell and Dixson Libraries Manuscripts Collection, State Library of New South Wales
Museum Victoria
National Herbarium, Melbourne
State Library of Victoria, Australian Manuscripts Collection
Published resources
Encyclopedia of Australian Science Exhibitions
Books
Book Sections
Edited Books
Journal Articles
Online Resources
See also
Digital resources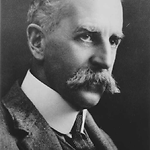 Title

Spencer, Walter Baldwin Portrait

Type

Image
McCarthy, G.J.
Created: 20 October 1993, Last modified: 17 July 2018