Biographical entry

Neumayer, Georg Balthasar von (1826 - 1909)
Born

21 June 1826
Kircheimbolanden, Bavaria

Died

24 May 1909
Neustadt, Germany

Occupation

Magnetician and Meteorologist
Summary
Georg von Neumayer set up the Flagstaff Observatory, Melbourne in 1858 and completed a detailed magnetic survey of Victoria 1858-1864.
Details
von Neumeyer, a Bavarian Ship's Officer who had obtained his doctorate at Munich in 1849, first arrived in Melbourne in 1852. Convinced of the importance of meteorology, he returned to Europe in 1854 and obtained the instruments necessary to establish an observatory in Melbourne. Initially working as a private citizen, he established a number of observing stations throughout Victoria, mainly at lighthouses. In 1859, he was appointed as Government Astronomer. He gradually built up the observatory recruiting, inter alia, W. J. Wills who was subsequently to perish in the ill-fated Burke and Wills expedition. Neumeyer played a leading role in the early scientific life of Melbourne before returning again to Europe in 1863. A Hundred Years of Science and Service, Bureau of Meteorology, 2001.
Archival resources
Public Record Office Victoria, Victorian Archives Centre
Published resources
Encyclopedia of Australian Science Exhibitions
Books
Book Sections
Edited Books
Journal Articles
Online Resources
See also
Digital resources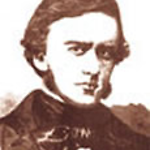 Title

Neumayer, Georg Balthasar von

Type

Image
McCarthy, G.J.
Created: 20 October 1993, Last modified: 12 February 2018